Top 4 Best Web Development Free Courses
Web Development has become one of the famous tech trends. Jobs for web developers are increasing as the demand for websites and web apps. According to the report by bis.gov, Jobs for web developers are going to rise by 8 percent for upcoming decade, which is a huge number by itself.
So, what are you waiting for? Web Development is one of the coolest and highest trending tech stacks as of 2021, and will eventually stay at the pinnacle for a long time, why?
Why learn Web Development?
We simply can't live without the web right? Each and every startup, whether it's an individual or 100 employees, doesn't matter, every company needs a website.
Also, today's conditions have made web development touch new heights. Due to Covid-19, everything is happening online, be it education, remote work, teaching, ordering products, foods, even registering for vaccines.
I think now you've gotten a reason to choose web development as your tech stack, but where to start? do you have to spend tons for some premium course?
No, you don't have to today, I've made a list of top 5 best web development free courses (on youtube) that will hook you with the coolest tech stack of the decade.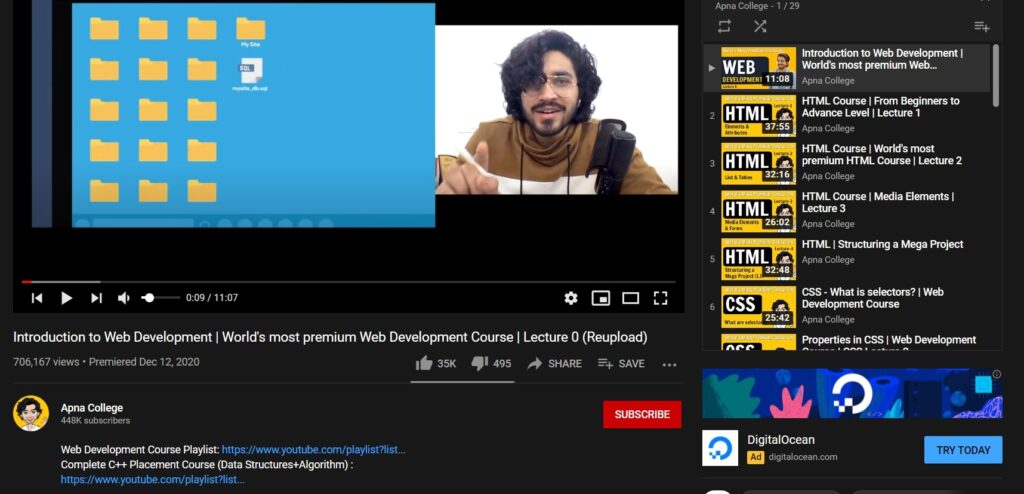 By far the best web development free course out there. If you don't know who Aman Dhattarwal is (I really doubt that by the way), he is an IT graduate, influencer, educator and public speaker.
Note: Course is still on going and it is updated regularly.
Pros -
Beginner-friendly
HTML, CSS, Bootstrap (yet more to come)
Premium Quality
Animated explanations
Cons -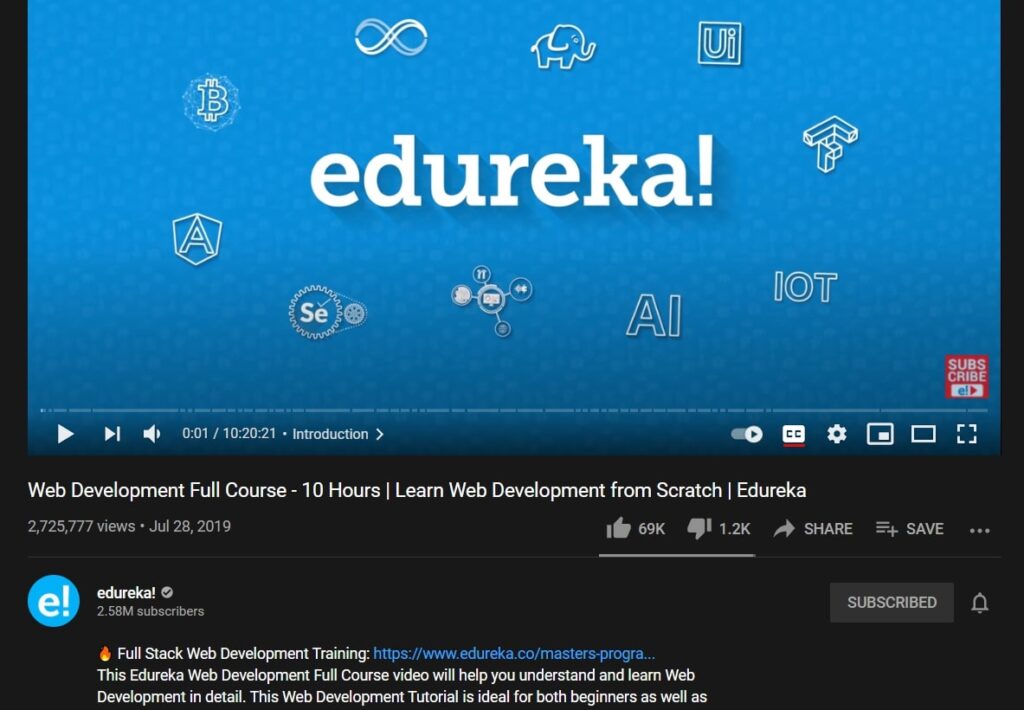 This Complete web development course will help you learn all important concepts from basic to advance. By the end of the course you will be easily creating amazing interactive web apps and websites.
Edureka is a premium online platform, but they also have a Youtube channel where they upload some free stuffs.
Pros -
All important topics covered
HTML, CSS, JS, Jquery, Angular, React, Nodejs, MongoDB
Premium quality
Graphic explanations
English
Cons -
Can be overwhelming for beginners, as too many technologies will be introduced.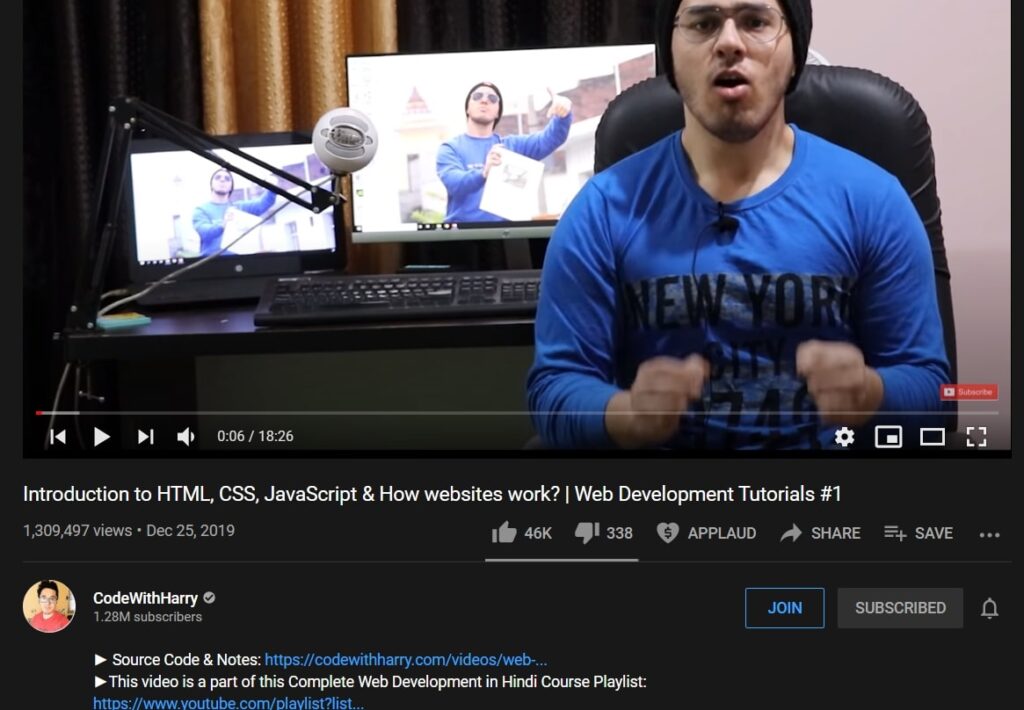 If you are an Indian, you definitely should know this guy. Harry or Haaris Ali Khan is a IIT Kharagpur graduate and one of the finest programmers in India.
This course is a full stack web developer course and covers almost everything that is necessary for developing strong foundation.
Pros -
Beginner friendly
HTML, CSS, JavaScript, Jquery, Nodejs, MongoDB
Simple explanations
Cons -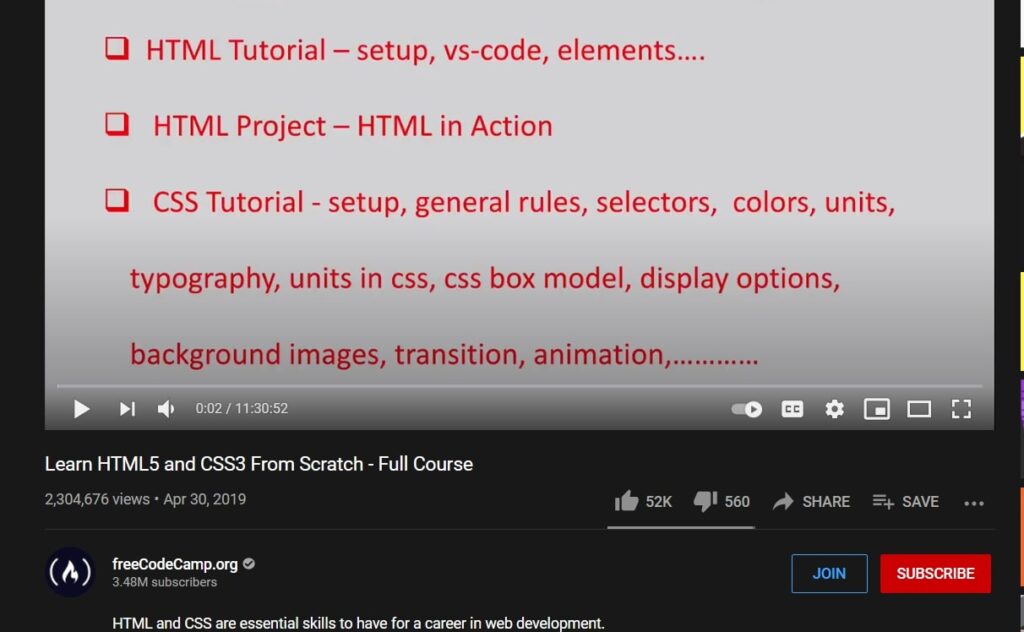 If you are going to be a programmer or coder in future, keep this name freeCodeCamp.org in mind, this is a non-profit organization which has interactive learning website platform. Everything in this site is free of cost. FreeCodeCamp also has a Youtube Channel, where they upload some amazing quality tutorials.
This course is best course if you want to see yourself a front-end web developer in future. This course will tighten your foundation on front-end development.
Pros -
Complete HTML & CSS
11 hours of content
Premium quality
English
Cons -
no JavaScript and backend
I hope this post was helpful, if it was then share it with your friends! because "Sharing is Caring!"